The Nature Reserve of Kivach is located to the north of Petrozavodsk. The pearl of the Reserve is the Kivach Waterfalls on the Suna River.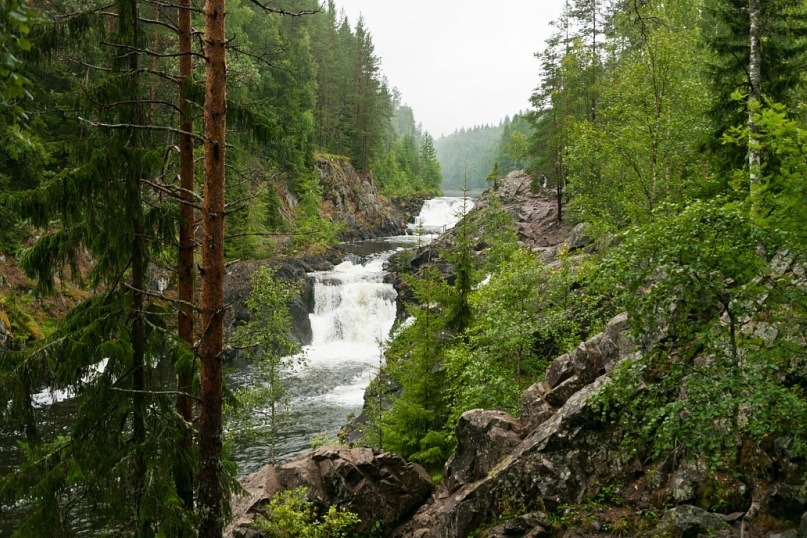 "Kivach" reserve is situated at the distance of 65 km. to the north from Petrozavodsk and 8 km. from federal highway to Murmansk. The reserve was created in 1931. Its area is 108,8 sq.km. and its not to much in comparison with the most of reserves of Russia.
48 species of mammals, 197 species of birds, 18 species of fishes and a great number of species of vascular plants are registered in the reserve.
The main sights and tourist routs are the following.
Kivach waterfall.

The waterfall is situated on Suna river, of the biggest rivers in Karelia. It has four stages and the height of 10.7 meters. Kivach was considerably more powerful before hydro-electric power station was built in Girvas which is 30 km. higher on the same river. But even now the waterfall may impress especially during high water period. The rocks of the right shore of Suna river are equipped with sightseeing platforms and guard-railings.

Arboretum.
Arboretum collection of the reserve started to be created in 1948. It presents both typical plants of Karelian taiga and invasive plants. Special interest may be attracted by famous Karelian birch.

Museum of nature.
The museum was founded in 1959. Not long ago a renewal was carried out. Exposition of the museum includes a diorama consisting of 12 species of stuffed animals and 22 species of stuffed birds, collections of insects, pictures of the reserve.

The reserve has several ecological paths. They pass through preserved taiga to swamps and streams. During tours the visitors get acquainted with the nature of taiga forests of Karelia
Half Day
Explore nature of Karelia on a half day trip from Petrozavodsk
Observe the Kivach Waterfalls
Learn about Karelia nature
Visit a husky farm
Dog sledding or trekking
6 days / 5 nights
A comprehensive tour of Karelia, including the Solovetsky Islands
Visit churches at Kizhi, Valaam and on the Solovetsky islands
Take a walk in Ruskeala marble canyon and Kivach Reserve
Learn about the White Sea - Baltic Canal
Taste local food in the historical village of Kinerma
On Request
Feel free to request a tailor made tour to Russia
Explore Russia from West to East and from North to South
Culture, adventure and nature holidays
Flexibility
Expert advice